Not that it bothers me, but this is obviously the most commonly asked question during pregnancy. My answer, just like probably every other pregnant woman, changes by the week. Sometimes even the day. So, while I am going to consider this an "update" post - there is a high likelihood it will be outdated by tomorrow.
I am 15 weeks. When I used to ask someone how far along they were, it hardly made any sense to me. All I knew was gender was about 20 weeks and then the baby comes by 40 weeks. So, at 15 weeks the babies are about the size of apples. Twin pregnancies don't go longer than 38 weeks and it seems to be fairly common for them to come anytime after 35 weeks. Much earlier than that wouldn't be considered uncommon though. I have a friend who delivered her twins at 29 weeks. Though, I do hope I can go between 36-37 weeks. Most of the advice from others has suggested to be ready for the babies by 25 weeks. This would be end of June. Not because I'll be going into labor, but because there is a higher chance I'll be on bed rest or homebound.
Anyway, I survived my first trimester. I have been blessed to have very little morning sickness. Compared to many twin pregnancies, I think I've had it pretty easy. While, I was nauseous every day, I wasn't throwing up consistently. I was traveling in OKC last week and the plane trip was awful. In fact, most of the trip I was pretty miserable. Traveling just isn't the same when you're pregnant! Then, last weekend I had the stomach flu. This was unlike any stomach flu I have ever had! However, once that cleared up, my nausea hasn't really returned. I sometimes get a rush of it, but nothing like it was. Let us hope it stays this way now that I'm settling into my second trimester.
I think I can confidently say I've moved from two naps during the day (one late morning and one late afternoon) to one short evening nap/rest. I haven't been as overwhelmingly exhausted and my overall mood seems to be lighter. I think that has a lot to do with the warm weather though.
My body is consistently changing and I am finally passed the "have you gained weight or are you pregnant stage?" Today, at church, I was pleasantly happy when two people I've never met stopped and asked me if I was expecting. Overall, I am getting used to the adjustments of an ever changing body. I know everyone is different, but with twins, I think my body has changed much more rapidly, or maybe it is just differently, than those with singletons…obviously. It would be nice to have had one pregnancy to compare to. Hopefully this just means my next pregnancy will be easier!
I was in the mall shopping for some baby clothes for a friend when I saw a couple pretty much buying out the newborn boy section. When the check-out lady asked who all the clothes were for, they beamed that they had just found out they were having a boy that morning. Well, let me tell you, she looked just about the same size as me, but she had no belly bump. She had to be 2-6 weeks further a long than me if she knew the gender. Anyway, like I said, I know everyone is different, but I think it is safe to say I am going to be huge. This is one of the first time in my life where I've really wished I was a few inches taller…a little bit longer legs would be really nice right about now.
15 weeks
I heard heartbeats of at least one of the babies at 9 weeks - just on a home doppler. I started feeling the babies (where I knew for sure) around 12 weeks. When you have one baby, I read most don't start feeling the baby until 16-20 weeks. But, with twins it is much earlier. Feels like little flutters - always more on the right side of my body. This morning was the first time I felt like one of the babies (or maybe both) were pressing against something that was obviously uncomfortable for me causing pressure on my right side. In the last three or four days it is also the first time in my life that I have ever had heartburn. After just dealing with it for a few days - not knowing what it was - I finally described how I was feeling to Mitch and before I had even finished my sentence he knew it was acid reflux. Unfortunately, I think the trigger is drinking milk. Which, I love and seems to be the only thing that if I drink before I go to bed - I don't get up starving in the middle of the night. It is also one of the means by which I am gaining weight (I'm trying to gain 2-3 lbs a week…best for me and the twins). So, I think I'll have to switch up my dairy and calcium diet and try to find something else to last me through the night.
I had an ultrasound at week 12 where the doctor confirmed there were still two babies there. This was a big worry for me because of vanishing twin syndrome. But, all looked well. I go back next week for some genetic testing and thyroid testing…my thyroid was testing a little high so they are closely monitoring that. In general, after 12 weeks, I think my stress level has dropped from 100 to 10. I feel so much more at peace with the pregnancy and my full faith has returned that the Lord will protect these babies and me according to His plan.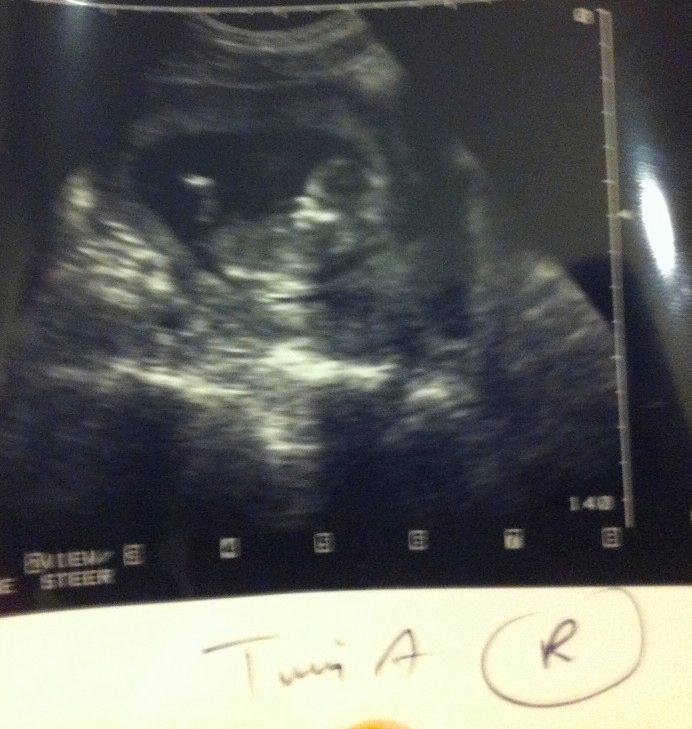 Both twin's heads are on the right. You can see the outline of their faces.
So, that is pretty much it! I'm least looking forward to being pregnant during all three months of the summer, but can't dwell much on that. I'm most looking forward to finding out the gender! We are going to try next week and hopefully they're in a cooperating position. My guess is boy/boy. That is what Mitch is going for as well. I'd be really happy with boy/girl or boy/boy. Of course, I'll be happy for girl/girl, but they're last on my list. And, let me say, I'll be pretty surprised if they are girl/girl. Every instinct I have had since day one has been boy. Guess we'll know pretty soon!